Recently, we've noticed hundreds of incredible Instagram accounts dedicated to bringing motorcyclists a social media experience like no other- but how to decide which ones to follow? Don't worry, we've rounded up some of the best for you. In this first edition of Who to Follow on Instagram, we've got 45 viral profiles sure to bring motivation and awe to your day.
1. Cycle Trader - Cycle Trader
- "Buy. Sell. Research. Trade. New and Used Motorcycles, Parts, and Accessories. Visit www.cycletrader.com today!" (ow.ly/alBT308xEW1)
2.
cafe
racer_pasion
- "High quality cafe racers daily. Top cafe racers in the world. Tag #caferacer_passion for a shoutout!"
3.
re
vivalcycles
- "Creativity re-engineered motorcycles and parts for the moto-obsessed." (revivalcycles.com)
4.
icon
motosports
- Makers of Helmets, Jackets, Gloves, Pants, Footwear. The worlds leading street based protective motorcycle apparel brand. #rideamongus
5.
dirtridermag
- "The largest off-road and motocross magazine in the world. Official publication of Bonnier Corporation." (dirtrider.com)
6.
r
evitsport -
"Inspiring riders since 1995. Experience the new collections on revitsport.com."
7.
m
eta
- "A high quality publication celebrating motorcycle lifestyle through timeless, art driven, culture based content." (readmeta.com/shop)
8.
bell_powersports
- "Official Account of Bell Powersports USA." (www.bellhelmets.com/powersports/)
9.
motor
cyclistonline
- Featured bikes, curated photos, and memes with credit to all owners and photographers. Emily bikekingzco@gmail.com for features. (www.bikekingz.com)
10.
revz
illa
- "Advancing the Motorcycle Enthusiast with expertise, innovation, community and support. Enjoy the ride! (linkin.bio/revzilla)
11.
cycl
eworld
- "Dedicated to the motorcycle enthusiast, no matter what he or she rides." (www.cycleworld.com)
12.
pipe
burn
- "Purveyors of fine custom motorcycles, cafe racers, bobbers, scramblers, flat trackers and whatever else gets us moving." (www.pipeburn.com)
13. bikeexif - "The world's best cafe racers, bobbers, scramblers, and trackers." (equipment.bikeexif.com)
14. motorcyclelife - Tag @#motorcyclelife to be featured on their feed. Credit is given to all photographers.
15. devolve_moto - Moto and outdoor gear. Casual apparel, unique gifts, and men's grooming products. Raleigh, NC.
16. clutchandchrome
- An online motorcycle lifestyle magazne. (www.clutchandchrome.com)
17. rustybutcher - "Handmade leather goods; bad ass clothing and accessories." (rustybutcher.com)
18. classifiedmoto - "Custom shop hidden in Richmond, Virginia, USA." (www.classifiedmoto./bigcartel.com)
19. fuelmotorcycles
- "Fuel Bespoke Motorcycles. Motorcycles, custom, scramblers, cafe racers, apparel, vintage culture...old's cool! #ScramAfrica #Barcelona" (fuelmotorcycles.eu)
20. motoinmode - "Motorcycles, Lifestyle, Fashion and More..." Tag #motoinmode for features.
21. thethrottledolls - "Moto loving, red-lipped dolls. Founders: Maria, Nina & Erica. Syndey, Aus and CPH, Denmark." (facebook.com/events/1710376912616847)
22. brother_moto - "A DIY motorcycle garage, espresso bar and curated retail experience. Stop on by and grab a coffee! Atlanta, GA" (brothermoto.com
23. cycletraderrockriverraceteam - "Official Instagram of the CycleTrader.com Rock River Yamaha SX/MX Race Team." (cycletrader.com)
24. superbikesgram - "Sportbikes and Superbikes Gram!" Use #superbikesgram for features.
25. motoloot - "Unique motorbike accessories that are guaranteed to make your riding buddies jealous. Use #motoloot for a feature." (motoloot.com)
26. suicidemachineco - "DEATHPROOF. fast loud machines. Shaun and Aaron Guardado. Long Beach, CA. Harley-Davidson Hooligan Race Team #66, #46. All things SMco in one place." (suicidemachinecompany.com)
27. roostmx - "Team Sponsor for CycleTrader Rock River Yamaha and Proud Partners with Cobra USA." (roostmx.net)
28. motorcyclenews - "Bringing you the best selection of news, sport and motorcycles for sale - in the world's best biking community." (motorcyclenew.com)
29. aimexpo
- "American International Motorcycle Expo. September 21-24, 2017. #Columbus, OH." (aimexpousa.com)
30. motorcycleshows - "International Motorcycle Shows (IMS) are coming to a city near you with a brand new experience for all powersports lifestyles #ridersunite" (www.motorcycleshows.com)
31. motorcycledreams - Moto pic sharing account. Tag #motorcycledreams for a feature."
32. shift_life - "#1 Motorcycle Page. Credit to all photographers." (motorcyclestreetwear.com)
33. sportbikelife
- Moto pic sharing account. DM #sportbikelife for credit.
34. motorcyclesofinstagram
- "LA Cali Showroom of YOUR bikes! Join the gang, post your bike, shout us out. Tag @motorcyclesofinstragram and #motorcyclesofinstagram to be featured."
35. bikekingz - "Motorcycles Daily. Credit to all photographers/owners." (bikekingz.com)
36. motorcyclecafe - Moto pic sharing account. "photos and bikes belong to their owners. DM us your motorcycle and it will be posted!" (or email motorcyclecafe@outlook.com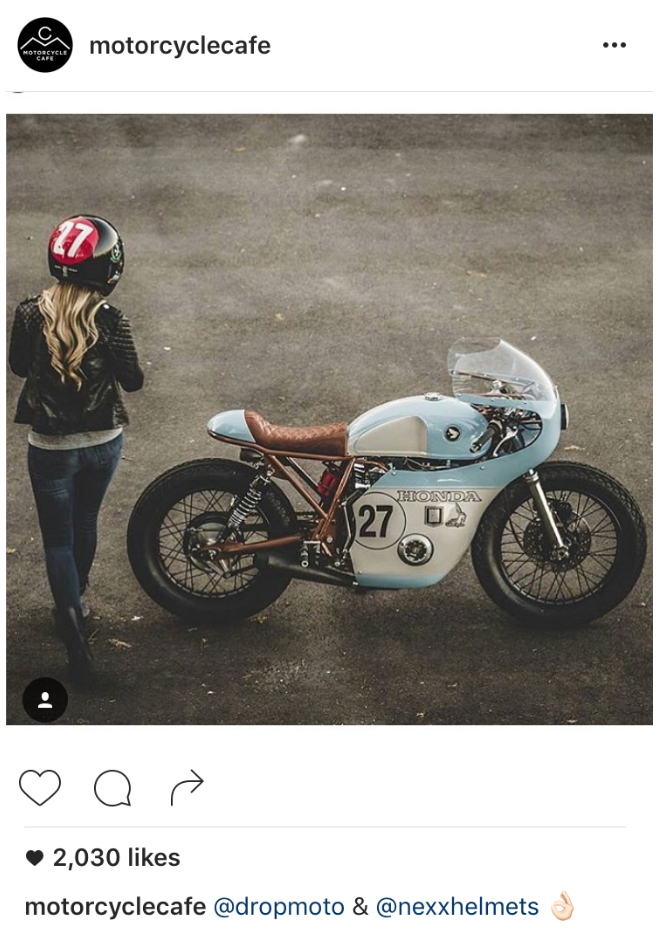 37. caferacerdreams
- "Cream motorcycles and more." (crdmotorcycles.com/en/the-shop/
38. motorcyclestunts - "Stunt or die. Riders kill the street. Bike Life. Best motorcycle stunts."
39. fevvvvaa - "Lanakila MacNaughton. Commercial Photographer, Producer. @womensmotoexhibit, @thedreamroll & @paradiseroadshow" (womensmotoexhibit.com/shop)
40. gentlemansride - "Sunday September 24th, 2017 - A dapper worldwide event for cafe racers, bobbers and classics. 2016 raised $4m USD for Men's Health!" (www.gentlemansride.com/globalvideo2016)
41. malamadremotorcycles - "Authentic, passioante and obsessed with building custom bikes. Bali based, World Delivery. Check our last project!" (malamadremotorcycles.com/scorpio-world-war-ii-custom/)
42. crave_for_ride
- "Ride it like you stole it. The inventors of the ORYGINAL KEVLAR lined SHIRTS. Free shipping of shirts/jackets to USA, UK, EU, AU." (www.craveshop.com)
43. ridermag
- "Rider magazine has been a motorcycle enthusiasts' source for touring, travel and adventure sites since 1974." (www.ridermagazine.com)
44. or.officeineroma
- "Officine Roma Cafe Racer. A cool container of lifestyle and inspiration for people who love completely unique things. Cafe Racers. Fixed and classic bicycles. And more." (facebook.com/or.officineroma)
45. bixbymoto - "Let's have fun, that sounds fun." (www.bixbymoto.com)
Are there any moto accounts that you follow on Instagram that we didn't mention in this post? Comment and let us know-- we'll be sure to add it to the list!